Hip Hop
Hip Hop or Hip Hop Diamonds have been all the rave since the 1980's with the Rap Artists. It wasn't until Gangsta Rap came out in the 1990's that these gemstones became really popular like they are today.
This jewelry is very expensive with the heavy gold, platinum and overpriced gems that are made by skilled jewelry crafts people, and the work is very costly.
Many celebrities and famous people wear this flashing diamond jewelry in music videos, movies, on the red carpet, at award shows, and most other places. This type of jewelry is known as the Bling. You've heard about it or have seen the bling bling in music videos, concerts, and on album covers.
The term bling comes from the sparkle, flash or fire inside the diamond. Not to mention again, that this bling bling jewelry is very expensive and unless you have millions of dollars like our favorite celebrities and hip hop artists do, you'll quickly turn away or change your mind about purchasing it.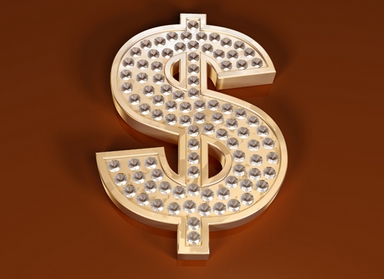 The Popular Bling Dollar Sign
There is however, diamonds or bling bling jewelry that you can purchase for a fraction of the cost. It is known to many 'happy people' as Iced Out Jewelry.
This iced out jewelry is the top stylish, hip and now trendy jewelry with the best quality materials that shines longer and outlasts the bling bling jewelry of the hip hop competitors. Can you say, "Iced Out Baby?"
The Iced Out Jewelry costs is very low, yet has the popular jewelry trends that the celebrities wear. It has the cutting edge and imitation gems that you'll find in fine accessories such as the custom made hip hop belt buckle designs and you can even put your favorite messages on them. Iced Out Jewelry comes in bracelets and necklaces such as the Baller Link Bracelets and Run DMC Dookie Rope Chains.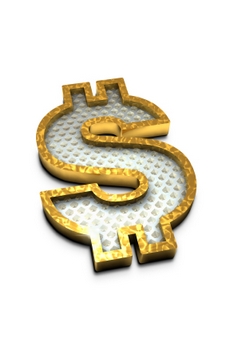 Another Dollar Dollar Bling Sign
Most of these iced out jewels are made of gold, silver and platinum plated jewelry settings with the best combination of the finest Austrian Crystals and Cubic Zirconium crystal gemstones.
These gemstones look just like real diamonds but they are less expensive. You will find in this jewelry selection, earrings, dog tags, necklaces, belt buckles, 1 Timezone Watches, Pendants, crosses, big watches, dollar signs and much more.
Perhaps, the reigning bling bling line of all the jewels are the ever-so-popular Golden Grillz. Golden Grillz come in so many different styles, designs, they're either real gold or gold plated, silver or platinum. They are a set of teeth that became extremely popular thru Gangsta Rap in early 2000. You can put your name on the grillz, diamonds, make them colorful or customized grillz anyway you want them.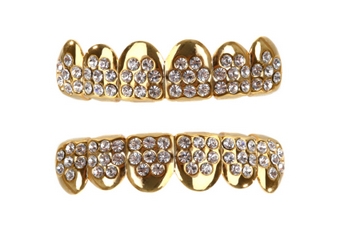 Golden Grillz
Many golden grillz are very expensive or high end grillz. These high end grillz are the newest and coolest styled jewelry that gangstas love to wear to show off their wealth and financial worth in order to keep their playa style and game going strong.
For awhile, only the wealthy gangsta rap artists and the other stars could afford to buy and wear high end grillz, because, they were made of real diamonds, gold and other precious gemstones.
Now, everyone can buy high end grillz, fore, these grillz are made of less expensive materials. You can find high end grillz made of fake gemstones. Fake jewelry is in high demand these days.
Some people purchase the high end grillz made with the fake gemstones or made of fake jewelry, but, it still gives them the look of their favorite, highly celebrated gangsta rap artists and hip hop stars. It also keeps them popular with the playas and the ladies.








From Hip Hop Back To Popular Bling