Celebrities Jewelers
Celebrities Jewelers are better known as famous Jewelers. They've been around for many years and have established incredible reputations.
You've heard his name sung in a R&B song by a famous R&B singer or rapped in the lyrics of famous Rap Artists' songs, he is known to many celebrities as, "Jacob-the-Jeweler". Jacob & Co. is located in New York City, New York. Jacob & Co. was opened in 1986 by Jacob Arabo. His passion for jewelry started when he was a young boy growing up in Russia.
At age 16, he migrated to the United States, enrolled in a jewelry design course to develop his natural talents in jewelry making. His instructors recognized his gifts, talents and encouraged him to leave the course to pursue his dreams.
Soon Jacob was designing his unique pieces of jewelry for a number of jewelry labels and private clients in New York's famed Diamond District. After opening up his own jewelry business, Jacob & Co., Jacob began to design products under his brand.
His unique creation and style attracted many of the music industry icons, as well as new artists that were coming onto the music scene. Many celebrities like Whitney Houston and Mary J. Blige recommended Jacobs' jewelry to their male and female friends, creating a buzz throughout the music world that continues to this day.
Now Jacob Arabo is the Celebrities Jeweler for the biggest name celebrities in every arena: sports, music, entertainment, and the fashion world.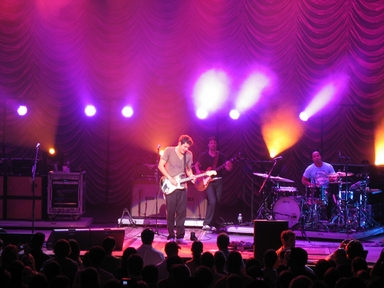 John Mayer in Concert
In 2002, Jacob Arabo created his own signature style in the fine timepiece category. He launched his first entry into this market with The Five Time Zone Collection. This collection is a combination of bold primary colors and multiple time zone technology.
This timepiece collection was inspired by the fast-paced, international styles of his clients such as, Sir Elton John, David Beckham, Justin Timberlake, Bono, Angela Bassett, Naomi Campbell, Sean "P. Diddy" Combs and Derek Jeter.
The design and varying sizes(40mm and 47mm) of the timepiece collection passes beyond the limits of gender. Men and women were attracted to this new timepiece collection creating an opportunity for line expansion to both sexes.
The two-and-three time zone styles, and the new Automatic Chronograph with a more sophisticated style came after Jacob's first timepiece collection, which proved to have an audience of men and women. This timepiece line helped Jacob's business to expand rapidly and globally.
The Five Time Zone Collection styles became diversified with softer pastel colors and diamond accents, as this Celebrities Jeweler business began expanding. His most creative extended timepiece line of The Five Time Zone was "The World is Yours" timepiece.
This timepiece has a unique and bold design which, turns the diamond dial into a world map by using different colored diamonds to form the continents and oceans. His masterful timepieces were voted for the 2006 Design Award in March.
Famous celebrities such as, Angela Bassett, Jimmy Fallon, Gisele Bundchen, Sean "P. Diddy" Combs, Enrique Iglesias, Justin Timberlake, David and Victoria Beckham, Sir Elton John, 50 Cents, Beyonce Knowles, Michael Jordan, Britney Spears, Madonna, John Mayer, and the list goes on of the celebrities who wears the Five Time Zone Watch Collection designed by Jacob & Co., which is literally "The Watch to Watch".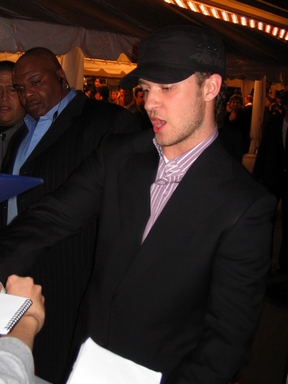 Justin Timberlake
The International press loves Jacob & Co. watches. They can be seen in the pages of popular magazines such as, Vogue, Elle, Vanity Fair, InStyle, Robb Report, the New York Times Magazine and many others. UPDATE: What is Jacob & Co. doing now with their fine jewelry and watch collections?
As of September 1, 2008: The Luxury watch and diamond jewelry house, unveiled a new campaign to show the business' glamorous sophistication, to give more effectiveness to its good name as the true makers of change in jewelry fashions.
Jacob Arabo chose the international supermodel, Natalia Vodianova, who has been seen in the pages of the world's top fashion magazines, as the new face for the women's campaign for the new line of intricately-designed, paved, colored diamond pieces and timepieces. And also, unveiled a new EPIC collection, a state-of-the-art timepiece, that reflects the new development of his brand, for the men's campaign.
Jacob & Co., with its classy, creative, designs for their jewelry and timepieces is in a class by itself and is definitely the Celebrities Jeweler who gives the celebrities their bling, bling.
Harry Winston
This Celebrities Jeweler whose famous in his own right, is the one who donated the Hope Diamond and the Portuguese Diamond to the Smithsonian Institution in 1958. He owned the Hope Diamond for a decade before donating it.
Harry Winston was born on March 1, 1896 to parents who immigrated to the United States from the Ukraine. His father Jacob, started a small jewelry business. Harry worked in his father's shop growing up. At the age 12, he recognized a two-carat emerald in a pawn shop, bought it for 25 cents and sold the gem for $800.00 two days later, as the legend goes.
Winston is known as the 'jeweler to the stars', thus being a celebrities jeweler. He started his empire in 1932 as Harry Winston, Inc. in New York City. He knew high exquisite quality diamonds the moment he saw them.
He acquired the Arabella Huntington's famous jewelry collection, after her death, he purchased them. Arabella was the wife of the railroad magnate Henry Huntington and amassed the most prestigious jewelry collections in the world, mostly from Cartier and other Parisian jewelers.
The jewelry collection designs Winston purchased were old-fashioned, he redesigned the jewelry into new contemporary styles and displayed his new skill of crafting jewelry.
He was the celebrities jeweler well-known to the general public, because in the musical film Gentlemen Prefer Blondes, the song "Diamonds A Girl's Best Friend" has the spoken interjection "Talk to me, Harry Winston, tell me all about it!" Also, a comic novel Chasing Harry Winston, was published in May 2008 by Lauren Weisberger.
There are seven jewelry salons operated by Harry Winston, Inc. in cities such as, New York, Beverly Hills, Las Vegas, Dallas, Honolulu, Bal Harbour and Chicago and ten salons in other countries such as, Tokyo and Paris. Harry's son Ronald Winston has a managerial part in the company. Harry Winston died on December 28, 1978.





From Celebrities Jewelers Back To Home Page