Buying Diamonds
Buying diamonds from a Jeweler or Diamond Broker is exciting to do. A jeweler sells different types of jewelry. Most people buy diamond jewelry to impress their loved ones, friends or colleagues. Sometimes, its hard to decide which diamond is a real expensive one from a reasonably priced synthetic diamond. There are guidelines that will help you decide which diamond is best to buy for yourself and your loved ones. The Guidelines are:
Certificates are reports that explain the diamond in details. They give you the exact measurements, weight, details of cut and quality of the diamond. These certificates are issued by the Gemological Institute of America (GIA) and American Gem Society (AGS).
Mostly loose diamonds are the ones that are certified by these institutions, however, other expensive diamond jewelry can be certified also. Other labs give certificates for diamonds as well but, some labs maybe a little more lenient with their standards than others. AGS and GIA are both the most widely recognized and regarded grading labs in the world.
An appraisal is different from the certificate, it tells the buyer how much a diamond is worth, it gives you the monetary value of the diamond. When you shop for diamonds, the certificate helps you to make an informed decision about the diamonds you purchase and to compare various diamond merchants.
Without a certificate for the diamond, a salesperson could sell you a loose diamond based on their own assessment of the diamond's value and quality, but, a trained gemologist might disagree with the salesperson's assessment. There are highly recommended diamond merchants, online or offline, from whom you can purchase certified loose diamonds.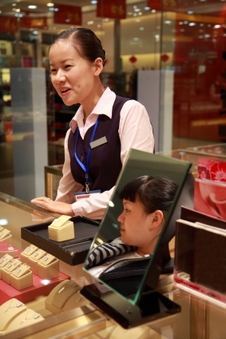 Photo: Jewelry Sales Conversation
Recommendations for buying diamonds online:
When buying certified loose diamonds online, there are various sites you can conveniently shop for diamonds at home, find unique diamonds selections, get great savings on the latest merchandise, you can discover the latest trends and styles. Internet shopping can be a valuable and informational resource for you.
Also, you may want to ask a question about diamonds, you can call the online store's customer service. There is a phone number to customer service on the contact page of the store.
Some online stores have a refund and 30-day return policy. You might want to read their 30-day return and refund policy before you buy. It is very important to check into their shipping standards:
do they have insurance for purchases up to $1,000 or more/li>
do they use insured carriers such as, FedEx or UPS
lost and damaged shipments policy
Diamond certificates from AGS/GIA, highly recommended
Secure Transactions
Private Policy, to insure your information will not be sold to other companies
There are many different shapes of diamonds you can buy such as:
Round Brilliant
Asscher Cut
Cushion Cut
Princess Cut
Emerald Cut
Radiant
Oval
Pear
Marquise
Heart Shaped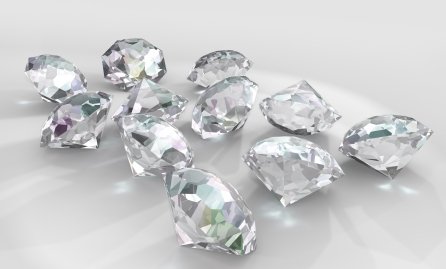 Round Brilliants on white
New innovative styles of cut shapes for diamonds to match different styles and tastes such as, the flower, cloverleaf, kite and triangle shapes are coming to be the latest fashions for certified loose diamonds today.
Synthetic or lab-created diamonds, look like real diamonds that you can buy at cheaper prices from well known and highly recommended diamond merchants.
Everyone's favorite auction place on the web is Ebay. Certified loose diamonds and synthetic diamonds are bought and sold on Ebay. However, you are buying diamonds from the sellers, so, the above recommendations apply as well for purchases on Ebay.
From Buying Diamonds To Fake and Real Diamonds